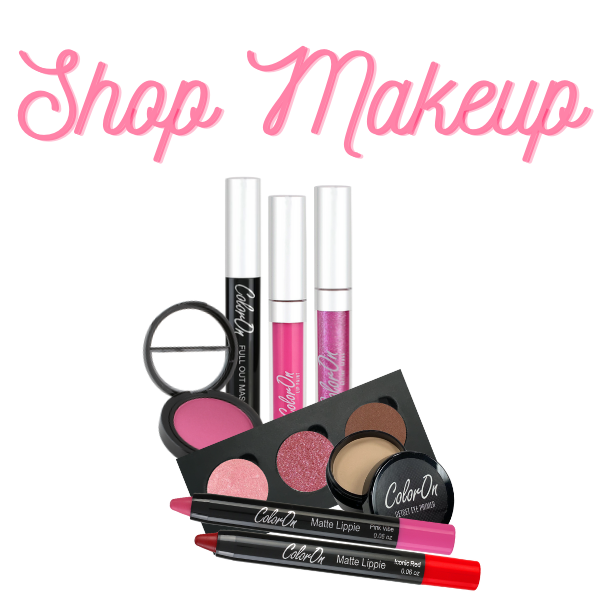 Contact info@prettygirlcosmetics.com for customization requests, price quotes, team discounts, or any other inquiries!
Glitter Eye Shadow Tips for Beginners
Apply your Cheer Makeup or Dance Makeup the day of competition can be challenging with all your time constraints. Your team needs a consistent look to earn those style points. Once you have chosen your products and refined your look, it is best to do a "How To" demonstration on your makeup application well in advance of competition day.
Glitter makeup can be a disaster if not applied properly. Here are some makeup tips you can use to apply your performance cosmetics
Things you will need:
Cosmetic Grade Glitter

Stik It Glue

Makeup Brush
Start with clean dry face. If you are applying two glitter makeup colors, the darker color should be on your eye lid and the lighter color should extend from your eyelid crease to just under your eyebrow Close your eye so that glitter will not fall into your eye during application.
You can use a strip of scotch tape under your eye for easy cleanup and to avoid fall out onto your cheek. Apply Pretty Girl Cosmetics Stik It Glue by using the applicator wand to apply the glue onto your eyelid. Start with the shape of the darker color on the eyelid and apply the glue to the eyelid in the shape you would like. While the eye glue is still wet, dab your brush into your darker colored glitter and then lightly dab onto your eyelid. Cover the first shape of eye glue that you outlined on the eyelid.
Once you are done with the first color, repeat the application of eye glue above the darker color from the crease to the brow line in the shape you would like. Apply the lighter color glitter in the same manner. Do not brush on glitter, it will smear and flake. Remove excess glitter from your face with a large makeup brush. Apply your black eyeliner to the eyelid and black mascara for a dramatic effect. If you prefer, you can apply false eyelashes but this must be done before you apply your glitter.
Finish off your makeup with your favorite lipstick and blush.